The IDS uEye XLE family is now available to 1stVision customers. These versatile cameras are designed for high-volume price-sensitive projects needing basic functions without special features. Suitable applications include but are not limited to manufacturing, metrology, traffic, and agriculture.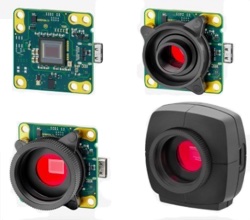 Thanks to different housing variants, extremely compact dimensions and modern USB3 Vision interface, uEye XLE cameras can be easily integrated into any image processing system. Housing variants include housed and board-level, with different lens mount options.
Currently there are 10 family members, each available with monochrome or color CMOS sensors, from 2 – 5MPixel. Cameras have excellent low-light performance, thanks to BSI "Back Side Illumination" pixel technology.
With a USB 3.1 Gen 1 interface, all XLE models communicate via the USB3 Vision protocol, and are 100 percent GenICam-compliant. So you may easily operate and program the cameras with the IDS peak SDK, as well as other industry-standard software.

1st Vision's sales engineers have an average of 20 years experience to assist in your camera selection. Representing the largest portfolio of industry leading brands in imaging components, we can help you design the optimal vision solution for your application.
1st Vision is the most experienced distributor in the U.S. of machine vision cameras, lenses, frame grabbers, cables, lighting, and software in the industry.
(Visited 198 times, 1 visits today)