Teledyne Dalsa has released the first line scan polarization camera for machine vision.  The Piranha4 polarization camera provides the capability of detecting , stress, surface roughness,  birefringence and physical properties undetectable with conventional imaging making the invisible visible!
This unique technique uses four polarization channels with a color line scan camera solving various applications, but not limited to the following:
Glass Inspection:  Glass bottles, architectural glass sheets, and automobile windshields, etc. – Enables inspection of internal stress and defects non-visible with conventional imaging

Film inspection: transparent films, packaging films, and patterned films etc. – Detect scratches, digs, and other surface defects that are difficult to detect with conventional imaging  

Precision optics: optical lens, prisms, fibers, and micro-optical – Detect residual internal stress and thermal annealing effects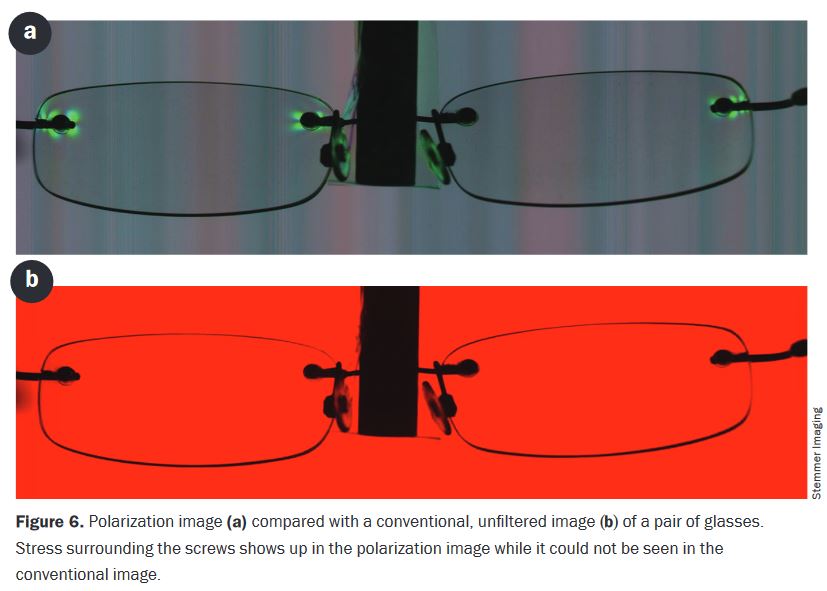 Flat Panel Display and PCB inspection: Thin film transistors, organic LEDs, printed circuit boards etc.- inspect ITO, dust particles, films thickness, and surface defects with enhanced contrast
Carbon fibers: effectively inspect the quality of composite materials that are widely used in aircraft, aerospace, wind energy, and automotive industry
Food and material sorting: Increase sorting accuracy and detecting capability of foreign materials such as plastics, glasses, metals etc. with polarization imaging
Bio-medicine: digital pathology, in vitro cells culture, optical coherence tomography etc.- Provides additional information in birefringence tissues
Remote sensing: helps identifying special objects from natural background
And many more…

Line scan polarization camera Features
CMOS Quadlinear sensor  – 2048 pixels
High speed line rate of 70k hz with 14.08 um pixels
Camera Link interface
Three polarization states plus and unfiltered channel (Output format with 0 deg (S component), 90 deg (P component), 135 deg and unfiltered polarization states.)
Full specifications on the Teledyne Dalsa polarization camera ( P4-CP-02K07Q-00-R ) can be found HERE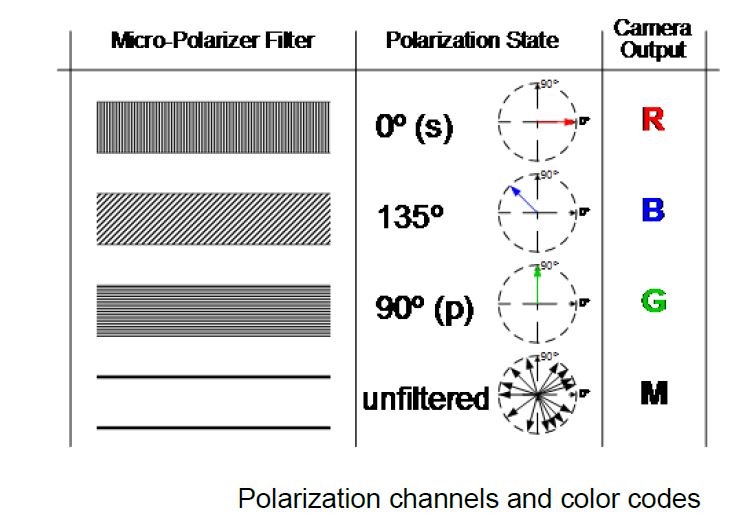 White Paper  – Learn about this unique polarization technique with line scan cameras!   This white paper covers the following topics

How polarization techniques work in transmission and reflectance configuration
Comparison of three polarization filter technologies
How the sensor architecture is configured for polarization effects and visualization of defects.
1stVision has a strong working knowledge of polarization techniques, line scan cameras and lighting and can discuss your application in detail.

Related Blog posts:
Teledyne Dalsa release of low cost GigE and camera link color line scan cameras
Video Tutorial:  How to setup HDR Imaging in Teledyne Dalsa Linea Line scan cameras