1stVision is pleased to announce that we can obtain Allied Vision's new G-130 TEC1 SWIR camera for our customers. Utilizing Sony's innovative IMX990 sensor, based on their SenSWIR technology, the camera is responsive in both the visible as well as the short-wave infrared range, spanning from 400 – 1700nm.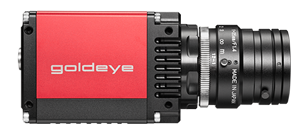 While there are a number of cameras that cover short-wave infrared (SWIR) alone, from 900 – 1700nm, this sensor's responsivity down to 400nm in the visible range opens up applications possibilities not previously possible with a single sensor camera.
Besides the wide spectral range, the sensor uses small 5µm pixels, with high quantum efficiency, offering precise detection of details.
The Goldeye 130 with IMX990 1.3MP SXGA sensor can deliver 110fps with Camera Link interface, or 94fps with GigEVision interface. The camera is fan-less, using thermoelectric sensor cooling (TEC1), yielding a robust and compact design.
Contact 1stVision for support and / or pricing.
1st Vision's sales engineers have an average of 20 years experience to assist in your camera selection. Representing the largest portfolio of industry leading brands in imaging components, we can help you design the optimal vision solution for your application.