Allied Vision is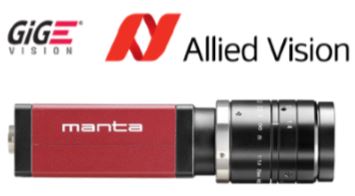 expanding  its line of Manta machine vision cameras, releasing the Manta G-158 and Manta G-040 GigE Vision cameras.  Featuring the second generation Pregius CMOS image sensors from Sony.  These are great replacements for Legacy Sony ICX424 and Sony ICX445 image sensors found in the Manta G-032 and Manta G-125 cameras.
The G-158 camera features the 1.58 megapixel Sony IMX273 image sensor, which has a 3.45 µm pixel size and achieves a frame rate of 75.3 fps. The Manta G-040 camera features the 0.4 megapixel Sony IMX287 image sensor, which has a 6.9 µm pixel size and achieves a frame rate of 286 fps. Higher frame rates can be achieved on both models in burst mode.

Allied Vision Manta Specifications and comparisons to older Sony CCD sensors as follows: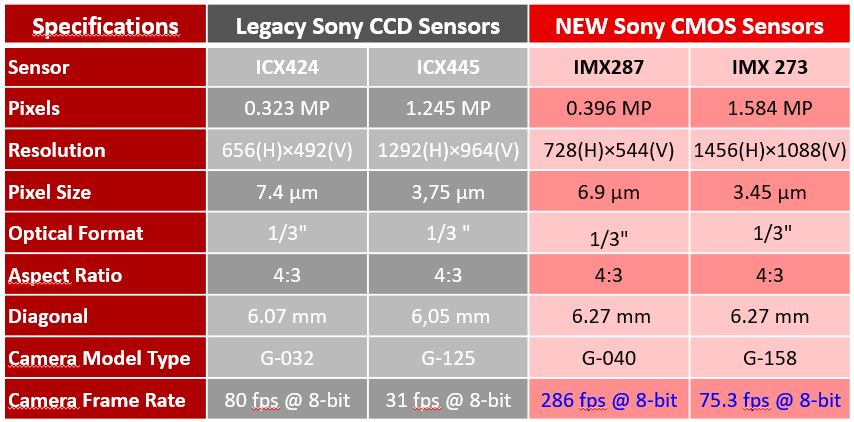 Allied Vision Manta features include:
Power over Ethernet options (PoE) with Trigger over Ethernet for single cable solutions
Angled Head and Board level variations allowing for custom OEM designs
Video-Iris lens control for challenging lighting conditions
Three look up tables (LUT)
Gige Vision compliant with support for popular third party image processing library's including Cognex VisionPro, Mathworks, MATLAB and National Instruments
To Learn More about the Allied Vision Manta cameras

View more information on the G-158.
View more information on the G-040.
UPDATE:  See this new video from Allied Vision (6/19/18)
1st Vision's sales engineers have over 100 years of combined experience to assist in your camera selection.  With a large portfolio of lenses, cables, NIC card and industrial computers, we can provide a full vision solution!

Additional References:
What are the attributes to consider when selecting a camera and its performance?
Need higher resolution? – Learn about Allied Vision's high-resolution Prosilica GT now with 12, 16 and 25MP ON Semi PYTHON sensors
Visit our "Knowledge Base" to learn more about camera technology, machine vision lenses and lighting.
(Visited 364 times, 1 visits today)