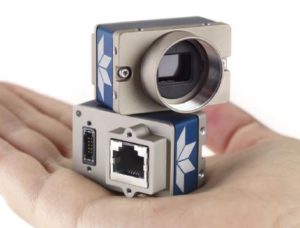 Teledyne Dalsa has released the latest addition to the Genie Nano family.  Introducing the Nano M1950 and C1950 cameras using the Sony Pregius IMX392 image sensor.  This is a great replacement for older Sony ICX818 CCD sensors.
These latest Nano models offer 2.4 MP (1936 x 1216) resolution with a GigE interface in color and monochrome with up to 102 frames per second utilizing TurboDrive.
What's so interesting about the Nano M1950 and C1950 models?
2.4 MP resolution with the speed of the popular IMX174, but at the price of the IMX249:  
Sony Pregius image sensors in a given resolution has created paired sensors, one being faster at a higher price and one slower at a lower price.  The Nano M1940 / C1940 cameras use the IMX174 which is a great sensor and historically had the fastest speed at 2.4MP in GigE, but at a premium.  We could opt for the Nano M1920 / C1920 cameras with the IMX249 at a lower price, but sacrificed speed.
Until now! – The latest Nano M1950 / C1950 models with the IMX392 provides the higher speed of the M1940 / C1940 cameras, but at the lower price of the Nano M1920 / C1920 cameras. 

2.4MP resolution using a 1 /2 in sensor format, provides cost savings on lenses.
Thanks to the Sony Pregius Gen 2 pixel architecture, the pixel size is 3.45um, allowing the same resolution and eliminating the added cost of larger format lenses found in the IMX174 / IMX249 sensors which were 1 / 1.2″ formats.
When would you use the Sony Pregius IMX392 versus the IMX174 and IMX249 sensors? 
The Sony Pregius IMX174 / IMX249 images still have an incredible dynamic range due to the pixel architecture found in the first generation image sensors.  (Read more here on Gen 1 vs Gen 2).  If you need dynamic range, with large well depths of 30Ke-, then use the IMX174 / IM249 sensors.
I'm so confused!   Where can I get the specs on the new Nano M1950 / C1950, understand what sensors are in what cameras and get a quote?
The tough part today, is that there a ton of model #'s in the Sony Pregius sensors lineup and in turn camera product lines.  Here's a brief table to help with links to spec's, related image sensors and a link to get a quote.
Sensor          Model 
IMX174         Nano M1940 / C1940          GET QUOTE
IMX249        Nano M1920 / C1920           GET QUOTE
IMX392        Nano M1950 / C1950           GET QUOTE
1st Vision's sales engineers have over 100 years of combined experience to assist in your camera selection.  With a large portfolio of lenses, cables, NIC card and industrial computers, we can provide a full vision solution!
Contact us to help in the specification and providing pricing
Ph:  978-474-0044  /  info@1stvision.com  / www.1stvision.com
Related Blogs & Technical resources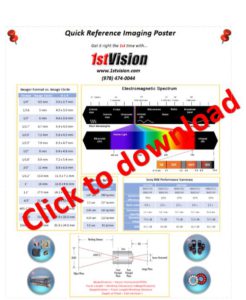 Sony Pregius sensor "Generations" – What do those differences mean for machine vision?
Teledyne Dalsa TurboDrive 2.0 breaks past GigE limits now with 6 levels of compression
What is a lens optical format? Can I use any machine vision camera with any format? NOT!