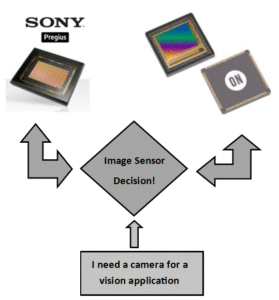 The latest CMOS image sensor technology from Sony and ON-SEMI have continued to expand the industrial camera market.  Sony has now reached its 3rd Generation Pregius sensors in addition to adding the low light performer, Starvis sensor.  ON-SEMI has also continued with higher resolutions and has the next generation in the works.
Given all these new sensors, we are often asked, "What is the best image sensor and camera for my application"?  
Although there are many considerations in general on selecting a camera (i.e Interface, Size, Color vs Mono etc), its best to start with the characteristics of  image sensor and performance.  Knowing the answers to questions relating to amount of available light, dynamic range requirements, wavelengths involved, and the type of application, the right sensor can start to be identified.  From there, we can select a camera with the appropriate sensor fitting other requirements such as interface, frame rate, bit depths etc.
In order to help pick a sensor, its extremely important to have the image sensor data that can be found on the EMVA1288 data sheets.  We have continued compiling this data into a "cheat sheet" along with required lens recommendations and comments how how some sensors relate to each other and older CCD sensors for your download.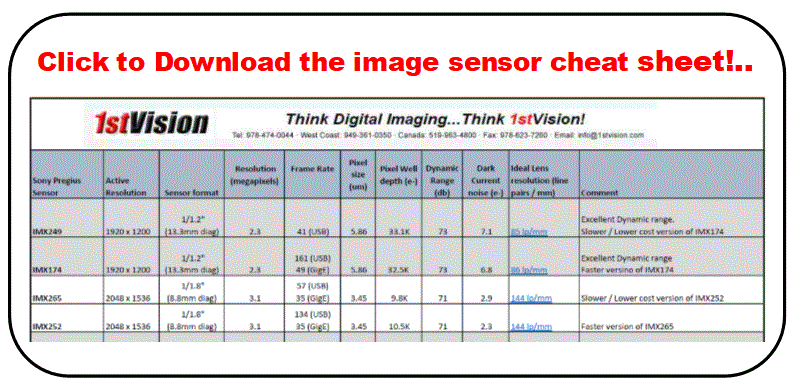 The data shows us that not all sensors are created equally!  Within the Sony Pregius sensors, there is 1st and 2nd Generation sensors both having unique characteristics.  The 1st Generation provided great pixel well depth and dynamic range with 5.86um pixels.  The 2nd generation came along with smaller 3.45um pixels,  improved sensitivity and lower noise, but less well depth.  The next generation will have the best of both worlds.. more to come on that front.
Using this data as an example, if we had an application with a "fixed" amount of light and wanted a relatively bright image (given a fixed aperture and just considering sensor characteristics), what sensor is best?   Answer:  We'd probably look at Model A with a smaller well depth as the pixel will start to saturate faster than Model C.  Or possibly we have a very small amount of light?  We'd start looking at absolute (abs) sensitivity which tells us the smaller # of photon's, 1.1 in this case, starts to provide a useful signal.
Example comparisons: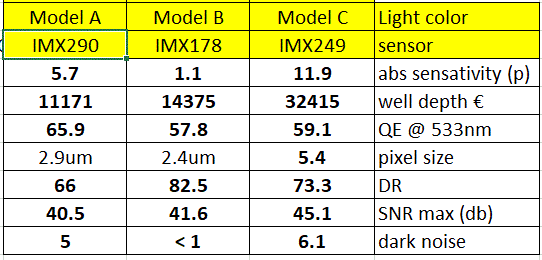 Don't let yourself get frustrated trying to figure this out on your own!    1st Vision's engineers have combined experience in the machine vision and imaging market of over 100 years!   Our team can help explain the various technical terms mentioned in this post and help in selecting the best image sensor and camera for an application.

Related Blog posts
What are the attributes to consider when selecting a camera and its performance?
IMX174 vs Starvis IMX290 – Battle of the 2 Megapixel Image sensors – Sony Pregius IMX174 vs Starvis IMX290
IMX174 vs CMOSIS CMV2000 – CMOS battle between 2MP Sony Pregius and CMOSIS
IMX250 vs ICX 625 – 5MP's sensor battle between Sony's older CCD vs new CMOS model
(Visited 1,465 times, 1 visits today)