In this focused blog we call out 4 specific camera models with 10GigE interfaces, ideal for life sciences and security applications, though of course not limited to those. In particular, there are two 1:1 square format sensors, with 37 and 67M pixels, respectively, that each come in monochrome and color offerings.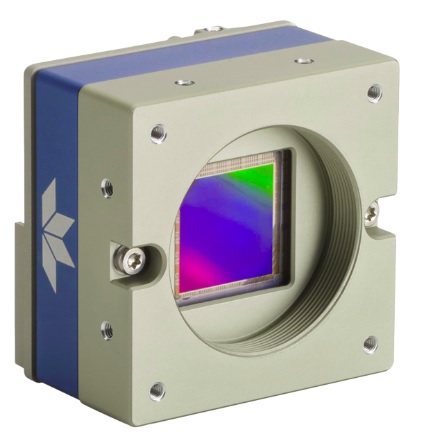 ---
Context if you want it: Teledyne DALSA recently augmented its Genie Nano series, to include the 10GigE interface, beyond the previous 1, 2, and 5GigE offerings, per our overview blog released in June 2023. Of particular interest there is a graphic showing throughput by interface across the whole range of Teledyne area scan cameras. It's a convenient way of understanding how the different levels of GigE interface compare to USB, CameraLink, and CXP interfaces.
---
Back to the 37 and 67M cameras in particular… What makes these cameras distinctive in the current market?
Non-stitched sensors:
These sensors are non-stitched. While some competitors use dual or quad sensor readout zones to drive framerates, they have to work hard to achieve tap balance outcomes satisfactory to the user – not easy under certain conditions. But with the 10GigE interface, when image quality is paramount for your application, these cameras deliver impressive framerates and images free from any tap balance artefacts. At full resolution, the 67M camera delivers 15fps, and the 37M provides 20fps.
If you love these two sensors, and want even faster framerates than what 10GigE can support, note that the same sensors appear in the Falcon4 with the CameraLink High Speed (CLHS) interface. With CLHS these sensors deliver 90 and 120fps, respectively!
Other features of note:
67M model is the most compact on the market at 41 mm x 59 mm x 59 mm
Multi-ROI up to 16 regions – further boost framerates by moving only essential image data
Robust and performant Teledyne Sapera driver or 3rd party GenICam compliant SDKs
10 – 36V or PoE (single cable for power, data, and control signals)
M42 lens mount
Precision Time Protocol (PTP) synchronization of two or more cameras over GigE network, avoiding the need for hardware triggers and controllers, for many applications.
Uniquely from Teledyne DALSA is their proprietary Trigger to Image Reliability (T2IR):
Manage exceptions in a controlled manner
Verify critical imaging events such as lost frames, lines, or triggers
Tag images for traceability
The Teledyne e2V sensors used in these cameras are designed and produced here in North America. Not to play politics when we all participate in global supply chains in our personal and professional lives, but for certain contract approvals or risk assessments it can be beneficial when the country of origin question is any easy one to answer.
Sometimes new camera families or models are just "me too" market followers – often worthy but not innovative as such. But the Genie Nano 10G-M/C-6200 and 10G-M/C–8200 cameras are game changers. Call us for a quote! 978-474-0044.
Even if you don't need the resolution or performance of the 37 or 67M Genie Nano 10GigE right now, the Teledyne DALSA Genie Nano families include products using 1, 2, and 5GigE, 10GigE, CXP, and CLHS interfaces. That ranges from "fast enough" (and modestly priced) through fast and on to very fast. If you have diverse imaging projects, there are economies of scale, and efficiencies in deployment, by using drivers, SDKs, and features shared by multiple cameras – and mastered by your team.

1st Vision's sales engineers have over 100 years of combined experience to assist in your camera and components selection. With a large portfolio of lenses, cables, NIC card and industrial computers, we can provide a full vision solution!
(Visited 138 times, 1 visits today)