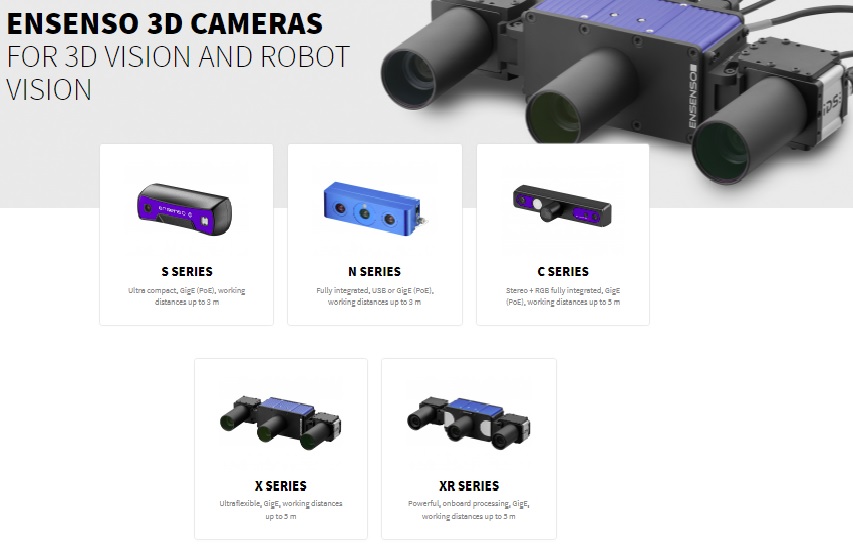 Most industries go through waves of technology and product innovation as they mature. In powered flight we had propellers long before jets, though each still has its place. In machine vision, 1D and 2D imaging took several decades to mature before 3D moved from experimentation and early innovation to mature products affordable to many. Download our Tech Brief "Which 3D imaging technique is best for my application?", if you haven't yet committed to a particular approach.
Stereo vision is one of the fastest growing approaches to 3D imaging, thanks to Moore's Law and ever more powerful and compact cameras, processing power, together with modularized and turnkey products. 1st Vision is pleased to represent IDS Imaging's Ensenso series of 3D cameras. In addition to the downloadable Tech Brief linked above, we encourage you to read on for an overview of all four Ensenso 3D camera families, the S, N, C, and X Series, respectively. If you prefer we guide you directly to a best-fit for your application, just give us a call at 978-474-0044.
---
Before we get to several different stereo vision series, and their respective capabilities, we note that IDS' Ensenso S Series in fact utilizes the structured light approach rather than stereo vision. Per the Tech Brief linked above, there are several ways to do 3D.
S Series
Ensenso S Series are compact 3D industrial cameras combining AI software with 3D infrared laser point triangulation, generating point clouds to Z dimension accuracy of 2.4 mm at 1 meter distance. They are a cost-effective solution for many budget-conscious and high volume 3D applications. Each is in a zinc housing with IP65/67 protection.
---
Back to stereo vision, IDS Ensenso N, C, X and XR 3D Series are based on the stereo vision principle.
N Series
Ensenso N Series 3D cameras are designed for harsh industrial environments and pre-calibrated for easy setup. N Series 3D cameras are "TM Plug & Play" certified by Techman Robot, and suitable for many 3D applications such as robotics and factory automation.
The Ensenso N Series 3D camera works for either static or moving objects even in changing or low light conditions. With IP65/67 protection, and a compact design, the Ensenso N Series 3D cameras fit into tight spaces or in moving components such as robotic arms. There are two variants:
N3X: aluminum housing for optimal heat dissipation in extreme environments
N4X: cost-effective plastic composite housing
---
C Series
The Ensenso C Series 3D camera, also uses stereo vision, but additionally embeds a color CMOS RGB sensor, pre-calibrated and aligned with the stereo vision system. This allows a "colorized" effect as shown in the video clip below, where one sees 3 adjacent image pairs. Each "right image" is the colorized augmentation on top of the initial stereo point cloud view to its left. Most would agree it lends a more realistic look.
The C Series delivers Z accuracy 0.1 mm at 1 meter distance, with the C-57S, or 0.2mm at 2 meters, with C-57M.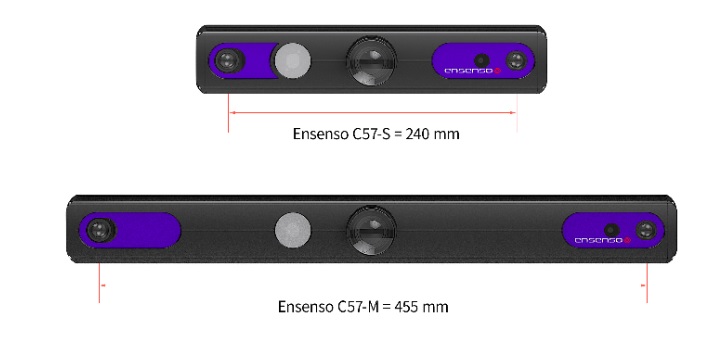 ---
X Series
Ensenso X Series 3D camera is an ultra-flexible, modular, 3D GigE industrial camera system. The X Series 3D camera systems are available with a choice of two variants: X30 and X36.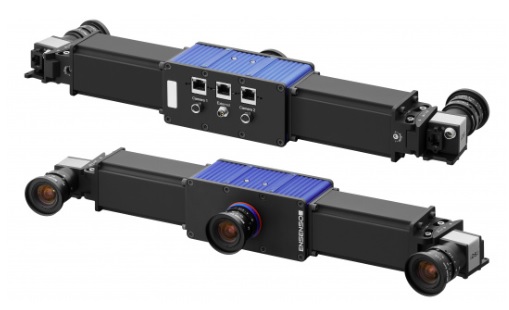 The Ensenso X30 3D camera system is designed to capture moving objects making it suitable for many industrial applications such as factory automation production lines, and bin picking.
For static objects, use the Ensenso X36 3D camera system. FlexView2 greatly increases the resolution producing 3D images with precise detail and definition of the objects being captured even with low light or reflective surfaces.
The Ensenso X 3D camera system includes a 100 watt LED projector with an integrated GigE power switch. The 3D camera system can be configured with many GigE uEye cameras and a 1.6 or 5 megapixel CMOS monochrome sensor to create your customized 3D imaging system.
Working distances may be up to 5m, and point cloud models may be developed for objects up to 8 cubic meters in volume!
---
All of the above cameras include the Ensenso SDK software that accelerates the application set up, configuration and development time. Ensenso 3D cameras are ideal for numerous industrial 3D applications including robotics, logistics, factory automation, sorting, and quality assurance.

1st Vision's sales engineers have over 100 years of combined experience to assist in your camera and components selection. With a large portfolio of lenses, cables, NIC card and industrial computers, we can provide a full vision solution!
(Visited 158 times, 1 visits today)