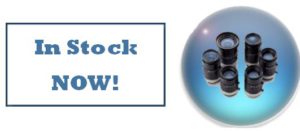 1st Vision's factory automation OEM machine vision lenses are designed using glass from one of the top Japanese lens manufacturers. These lenses are not branded and allow our clients to have excellent performance at a better price than the 'named' brand manufacturers, getting the most bang for your buck!
In comparing specifications, our OEM lenses have better resolution in many cases over brand name lenses, but at ~ 30% less cost in some cases.

In resolution chart comparisons, the 1st Vision OEM lens on the right outperforms the leading lens in its class.   All lenses have locking screws for focus and iris.  High temperature options are available providing ranges from – 30 C to +70 C.

Its now easier than every to find a desired lens it the new 1st Vision lens selector.  Sort by focal length, optical format and lens quality to name a few sort attributes.  Try it now HERE!
Need help in your lens selection?  Our sales engineers all have over 20 years of vision experience and can help you identify the best lens for your application.

If you like our lens selector, check out the new camera selector!    Watch our short video highlighting helpful new features and selectors on our website
We also have several blog posts providing additional education on lens selection including handy focal length calculators.  Click on the resources below.
Resources:
Calculating Lens Focal length
Video:  Using the 1st Vision Lens calculator
Demystifying lens performance – MTF
Calculating your resolution for machine vision applications
(Visited 374 times, 1 visits today)