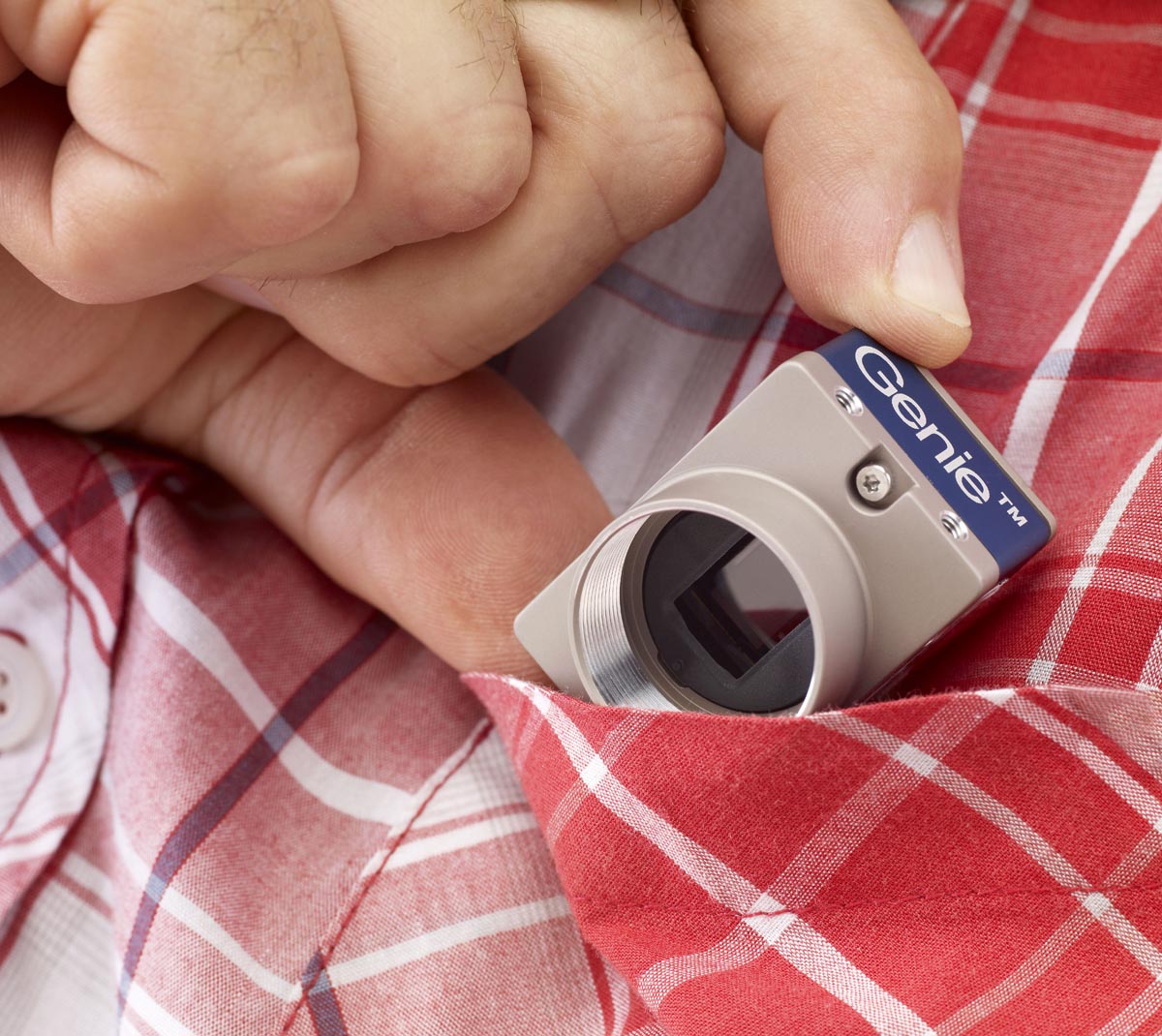 Teledyne Dalsa has continued expanding its Genie Nano GigE vision camera series. Introducing the Nano C4900 GigE camera based on the ON Semiconductor AR1820HS 18 Megapixel Back Side Illuminated (BSI) image sensor with a resolution of 4912 x 3684.

Attractively priced below $600, this just may be the most pixels for your money!

Furthermore, Teledyne DALSA's "Burst Acquisition" feature provides frame rates of 13 fps @
 18MP pixels resolution while maintaining superb image quality!
If the attractive price for 18 MP is not enough to get you excited, there are a few other aspects of this camera worth discussing further.  
Back Side Illuminated Technology (BSI):  If we were to look at this sensor 5 years ago and see a pixel size of 1.25um, we'd assume that is not light sensitive.  On the contrary as ON Semiconductor flipped the pixel upside down!  Traditional image sensors were front illuminated where the photo detectors were towards the back of the pixel stack.  In turn, there was loss in this method as it interfered with overall light reaching the detector.  Back side illuminated sensors have the same elements, but the photo detector was moved forward to not have as much loss due to internal wiring and reflections.  BSI technology improves the change of photons being captured from 60 to 90% on average providing high sensitivity even in small pixels!
Burst Acquisition mode:  The Nano C4900 has 200 MB of internal memory allowing image capture at higher rates exceeding the GigE bandwidth for periods of time.  This mode is very useful for applications needing a rapid series of images at intervals.  
Rolling Shutter with Global Reset:  Rolling shutter image sensors have the benefit of lower cost typically, but are limited to stationary objects due to image distortion. However, thanks to a the global reset feature, distortion is minimized by allowing all the lines to be exposed with read out of the lines there after.  
Extended Operating Temperature range:  Nano cameras have an operating case range of -20 to 60 deg. C.  This provides higher temperatures versus the competition. 
1 / 2.3″ Image Format: High resolution cameras typically have relatively large formats which increases the cost of lenses.  As the pixels are relatively small, the image format is only 1/2.3 allowing lower cost lenses to be used.  

18 Megapixels, 13 frame/sec, high sensitivity, overall low cost creates possibilities!  

Applications may include: 
Low light, high magnification medical applicications

Industrial Metrology

Intelligent traffic solutions (ITS)

Microscope applications

Unmanned Aerial
Need high resolution, global shutter cameras still in a compact format?   Dalsa is now shipping the following new high resolution cameras: 

Dalsa Nano M4020 (IMX304) – 12MP,  4112 x 3008, 20 fps

Dalsa Nano M4030 (IMX267) – 9MP, 4112 x 2176, 30 fps
See the complete Teledyne Nano camera line here

As the old saying goes, "A system is only as strong as its weakest link".  As a reminder, do not let your cables be your weak link!  

Be sure to use our new industrial GigE Cables – Click here NOW!


Please do not hesitate to Contact us!  1st Vision can provide a complete solution including cameras, lenses, lighting and cables.  We have over 100 years of combined experience we can put to work for you.  
Ph:  978-474-0044
info@1stvision.com
www.1stvision.com  
BSI Image courtesy of Solid State Technology Magazine

Follow us on Social Media!
(Visited 569 times, 1 visits today)