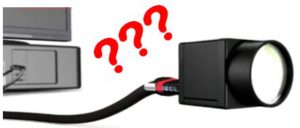 As distributors of camera systems
, we hear this question many times a day. Why does your
GigE
or
USB3
cable cost so much?  I can just buy a cable online from Amazon, Ebay, etc for $5 when yours cost $25 or more!
The answer is: You can..  sometimes… but it depends upon many things, and how critical those things are to your application. 
Here are 5 key variables you need to consider in a camera cable selection
Distance from camera to computer

Data rate in which the camera is transmitting  

Importance of reliability of application 

Structural integrity of connection at camera and computer

Total cost of your process and / or down time
From many years of diagnosing industrial imaging problems, after incorrect software setup, BAD CABLES ARE NEXT ON THE LIST FOR  "MY CAMERA DOESN'T WORK" problems!!


Distance, the killing factor!  If you were to look at a 'bode plot' of the signal transmitting from the camera to the computer you would see dramatic attenuation of the signal vs. distance, and also versus the data rate. In fact, at the distance limits, you might wonder if it actually works as the signal is so low! 
GigE is rated at 100 meters, however, the signal does degrade quite a bit, so cable quality and data rate will be the determining factors.  USB3 does not have a real specification and it is difficult to find consumer grade cables greater than 2 meters in length. In fact, we have experienced poor results with consumer cables greater than 1 meter in length!
What are the differences between 'Industrial' and ''consumer' cables?  
8 differences are listed below: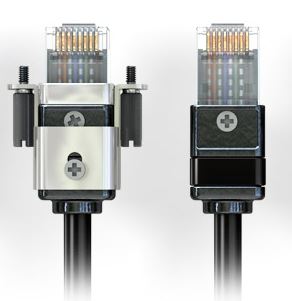 Industrial cables are tested to a specification for each cable.  There are no batch to batch differences. 

That specification usually meets organization requirements such as IEEE or Automated Imaging Association (AIA) standards

Industrial cables give you consistency from a single manufacturer (when buying online, you are not always sure you are getting the same cable)

Industrial cables have over-molded connectors

Industrial cables have screw locks on the ends

Industrial cables are usually made with larger gauge wire

Industrial cables typically specify bend radius

Industrial cables are made with flex requirements (bend cycles they can meet)
When should we consider using an "Industrial cable"?  Here are a few examples to consider:
Example 1: In a research lab, using a microscope 1 meter from the computer running low data rates, non automated.
Distance is small, data rate is low, chance of someone pulling on the cable is low, and if the data doesn't get delivered, you can re-acquire the image. There is no big need for a special cable and can buy it off the internet.
Example 1a:Let's change some of these parameters, now assuming you are not in lab, but the microscope is in an OEM instrument being shipped all over the world. 
If the system fails because you went with an unspecified cable, what is the cost of sending someone to fix this system 3000 miles away? In this situation, even though the distance is small, and the data rate is low, the consequences of a cable failure are very high!
Example 2: GigE cameras running at close to the full bandwidth. If you don't need screw lock connectors, and the distance is not too great (< 10 or 20 meters), 
You can probably get by with 'higher quality' consumer cables. At distances greater than 20 meters, if you care about system reliability, you will definitely want industrial cables.  
Example 3. Two to Four GigE cameras running at close to full bandwidth in a system.
If you need system repeatability, or anything close to determinism, you will need industrial cables. On the other hand, if you your application is not sensitive to packet re-sends, a consumer cable should work at under 20 meters
Example 4. GigE cameras in an instrument.  Regular GigE cables are just locked into the RJ45 with a plastic tab. 
If your product is being shipped, you can't rely on this not to break. You want an industrial cable with screw locks.
Example 5. GigE cameras in a lab. 
Save the money and use a consumer cable!
Conclusions
If you running USB3 cables at distances more than 2 meters, DO NOT use consumer cables.  

If you are running multiple cameras at high speeds, DO NOT use consumer cables.  

Obviously, if you need to make sure your cables stay connected, and need lock downs on the connectors, you cannot use consumer cables. 

If you are running low speed , short distance, and you can afford to re-transmit your data, consumer cables might be just fine.
1st Vision is a distributor for Alysium-Tech who manufactures industrial GigE Vision and USB3 Vision cables along with other types of camera cables.  Full data sheets are available which include test specifications in the links below. 


Click HERE for USB3 industrial cable specifications   

Click HERE for GigE industrial specifications



Have more questions?  Please do not hesitate to Contact us!  1st Vision can provide additional information on the industrial cables.  Furthermore we can provide a complete solution including cameras, lenses, lighting and cables.  
We have over 100 years of combined experience we can put to work for you!
Ph:  978-474-0044
info@1stvision.com
www.1stvision.com  

Follow us on Social Media!
(Visited 127 times, 1 visits today)