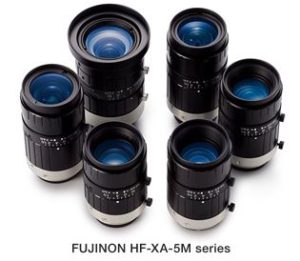 FUJINON has continued to expand its HF-XA-5M product line with the new 5 MegaPixel lens (MP) series.

These lenses provide the resolving power required for the popular Sony Pregius Image sensors with 2/3″ formats and 3.45um pixel pitch.  

For any cameras using the Sony Pregius 5 MP IMX264 and IMX250 sensors, these are a perfect match for the pixel pitch.  Even older   Sony ICX625 sensors will benefit from the new HF-XA-5M lenses.  





FUJI HF-XA-5M Unique Features  
Compact design for installation versatility
The FUJINON HF6XA-5M, with a focal length of 6mm measures just 39mm in external diameter, the world's smallest machine vision lenses of this class. The other five models are also compactly designed with the external diameter of 29.5mm, which is about the same size as general compact machine vision cameras. The entire series contributes to achieving a compact form factor for machine vision systems
FUJI's unique "4D" High Resolution performance delivers edge to edge sharpness under a range of installation conditions
Delivering high resolution of 3.45 µm pixel pitch on a 2/3-inch sensor at the working distance of 50cm, which is the most frequently-used distance among users.
The unique "4D High Resolution" function mitigates resolution degradation when changing a working distance or aperture value. It maintains their high resolving power of no less than 4.4 µm pixel pitch (equivalent to 3 megapixels) on a 2/3-inch sensor from the image center to all corners. This function perfectly matches when you want to set the aperture wide open to achieve a faster shutter speed.
Designed for installation convenience
Three screw holes each are provided on the iris ring (aperture) and the focus ring. Users can choose the optimum hole according to their installation conditions, providing a high level of installation convenience.
Please do not hesitate to
Contact us
to discuss your application and help select a lens.
  1st Vision can provide a complete solution including cameras, lenses, lighting and cables.  We have over 100 years of combined experience we can put to work for you.  
Ph:  978-474-0044
info@1stvision.com
www.1stvision.com  
(Visited 247 times, 1 visits today)