The smallest board-level cameras in the IDS portfolio, the uEye XLS cameras have very low power consumption and heat generation. They are ideal for embedded applications and device engineering. Sensors are available for monochrome, color, and NIR.
The "S" in the name means "small", as the series is a compact version of the uEye XLE series. As small as 29 x 29 x 7 mm in size! Each USB3 camera in the series is Vision Standard compliant, has a Micro-B connector, and offers a choice of either C/CS lens mount, S-mount, or no-mount DIY.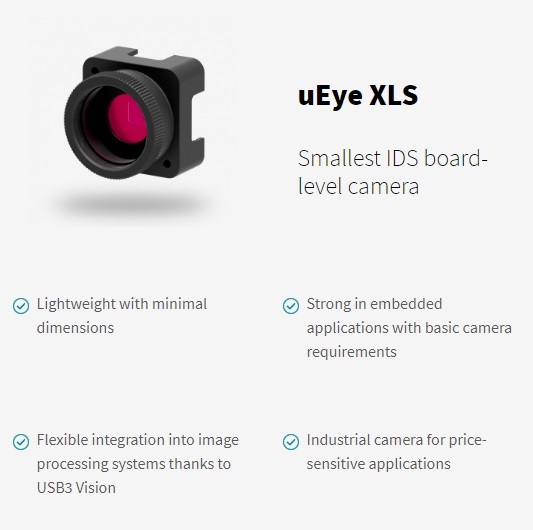 Positioned in the low-price portfolio, the XLS cameras are most likely to be adopted by customers requiring high volumes for which basic – but still impressive – functions are sufficient. The XLS launch family of sensors include ON Semi AR0234, ON Semi AR0521, ON Semi AR0522, Sony IMX415, and Sony IMX412. These span a wide range of resolutions, framerates, and frequency responses. Each sensor appears in 3 board-level variants per the last digit in each part number corresponding as follows: 1 = S-mount, 2 = no-mount, 4 = C, CS-mount.
Sensor
Resolution
Framerate
Monochrome
Color
NIR
ON Semi AR0234
1920
x
1200
102 fps
U3-356(1/2/4)
XLS-M
U3-356(1/2/4)
XLS-C
ON Semi AR0521
2592
x
1944
48 fps
U3-
368(1/2/4)
XLS-M
U3-
368(1/2/4)
XLS-C
ON Semi AR0522
2592
x
1944
48 fps
U3-368(1/2/4)
XLS-NIR
Sony
IMX415
3864
x
2176
25 fps
U3-38J(1/2/4)
XLS-M
U3-38J(1/2/4)
XLS-C
Sony
IMX412
4056
x
3040
18 fps
U3-38L(1/2/4)
XLS-C
XLS family spans 5 sensors covering a range of requirements
Uses are wide-ranging, skewing towards high-volume embedded applications:

In a nutshell, these are cost-effective cameras with basic functions. The uEye XLS cameras are small, easy to integrate with IDS or industry-standard software, cost-optimized and equipped with the fundamental functions for high-quality image evaluation

1st Vision's sales engineers have over 100 years of combined experience to assist in your camera and components selection. With a large portfolio of lenses, cables, NIC card and industrial computers, we can provide a full vision solution!
(Visited 457 times, 1 visits today)