Some applications demand high resolution from 16MP or up to 151MP. Thanks to dual and 10GigE interfaces, Camera Link, and CoaXPress, getting image data from the camera to the computer can be accomplished at speeds matched to application requirements, using camera series HR and SHR from SVS-Vistek.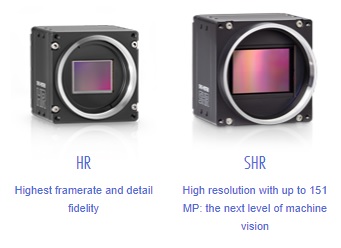 What kind of applications require such resolution? Detail-demanding manufacturing inspection, geo mapping, life science, film industry and other applications require, or benefit from, a high resolution image delivered from the camera directly to the PC. Prior to the convergence of high-resolution sensors and high-speed interfaces, one might have needed multiple smaller-resolution cameras to capture the entire field of view – but with complex optical alignment and image-stitching (in software) to piece together the desired image.
The HR series offers resolutions from 16 – 120MP. The SHR series ranges from 47 – 151MP. While every machine vision camera offers various features designed to enhance ease-of-use or applications outcomes, here are some particular features we highlight from one or both of the HR or SHR series:
Minimal 128 MB internal image memory, burst mode – capture sequences rapidly on the camera and transfer them to the computer before the next event
LED controller for continuous & strobe built into camera – avoids the need to purchase and integrate a separate controller
Programmable logic functions , sequencers and timers – critical for certain applications where programmed capture sequences can be pre-loaded on the camera
RS-232 serial data to control exposure, lights or lenses
Long exposure times up to 60 seconds (camera model dependent) – useful for low-light applications such as those sometimes found in life sciences or astrophysics
Camera Link, CoaXPress and 10GigE interface options (varies by model)
For pricing on the HR / HSR Series, follow the family links below to the series table, then click on "Get quote" for a specific model of interest. Or just call us at 978-474-0044 to discuss your application and let us guide you to the best fit.
The HR series uses a range of CCD and CMOS sensors from CANON, Sony and ON Semi. The SDR series use both CCDs from ON Semi and CMOS sensors from Sony. The same sensor choices and feature sets are offered across several popular machine vision interfaces, permitting users to tailor their own need for speed to specific application requirements. SVS-VISTEK engineering and manufacturing precision mounts these high-resolution sensors, which allows users to have distortion free, high quality, high content images.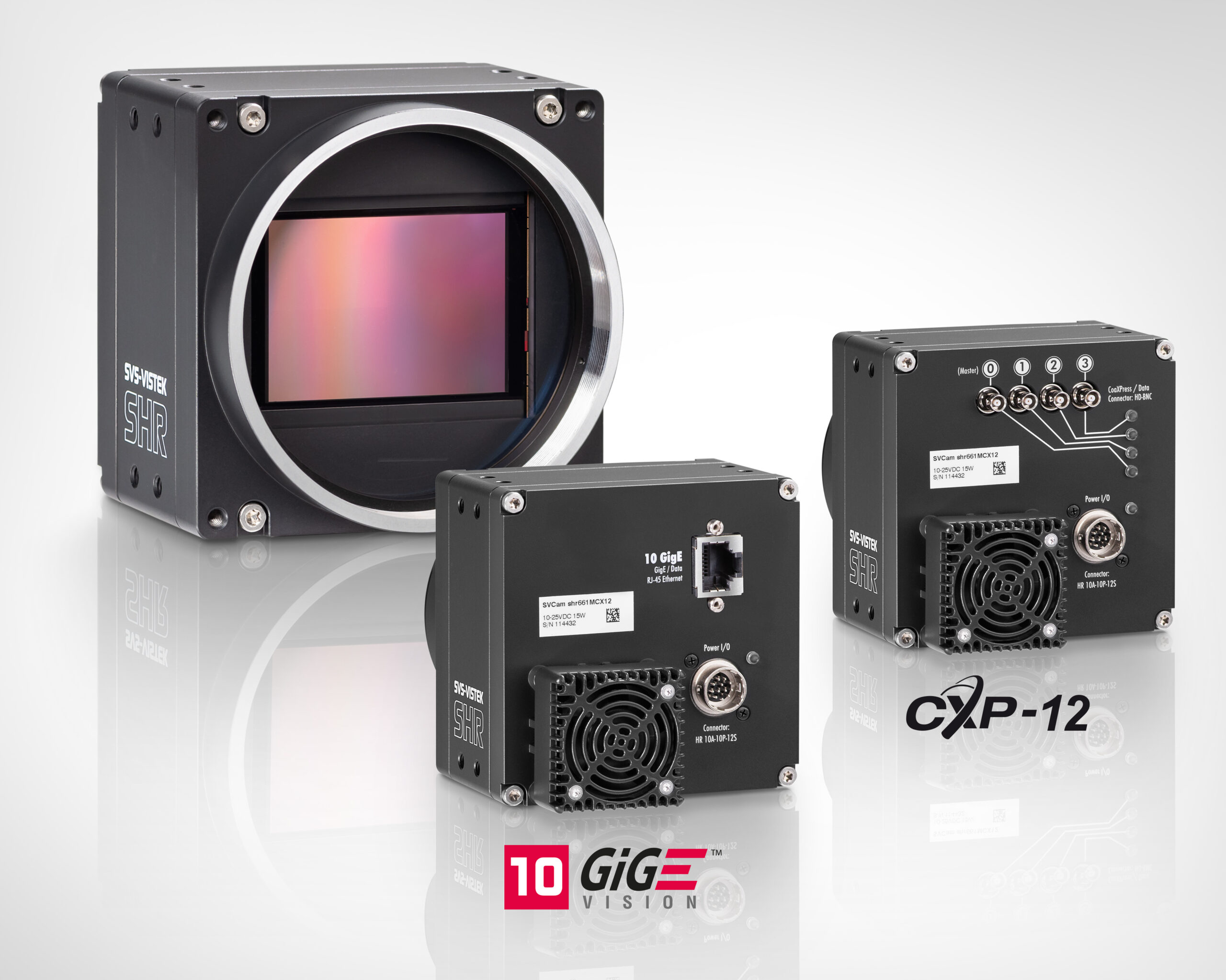 At the time of writing, note the newest member of the SHR series, the shr661. At 127 megapixels this CMOS sensor camera has remarkably high resolution with a global shutter. With the IMX661 sensor from the Sony Pregius series, the backlight technology enables very high light sensitivity and above-average noise behavior. This enables an image quality with which even the finest structures can be resolved. The shr661 is one of the most powerful industrial cameras on the market.
Those familiar with high-resolution sensors may know about dual and quad-tap sensors, whereby higher frame rates may be achieved with electronics permitting two or more sections of the sensor's pixel values to be read out in parallel. A traditional challenge to that approach has been for camera manufacturers to match or balance the taps so that no discernable boundary line is visible in the composite stitched image. SVS-Vistek is an industry leader with their proprietary algorithm for multi-tap image stitching.

1st Vision's sales engineers have over 100 years of combined experience to assist in your camera and components selection. With a large portfolio of lenses, cables, NIC card and industrial computers, we can provide a full vision solution!
(Visited 172 times, 1 visits today)