Allied Vision has integrated the IMX548 into the Alvium family with the Alvium C/U/G5-511 camera models, where the prefix designator:
C is CSI-2, the Camera Serial Interface, popular for embedded systems
U is USB3, the widely available interface between computers and electronic devices
G5 is 5GigE, with up to 100 meter cable runs and 5x the throughput of GigE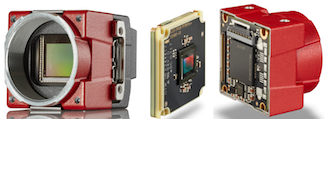 SONY's IMX548 is a member of the 4th generation Pregius sensors, providing global shutter for active pixel CMOS sensors, with low-noise structure yielding high-quality images. See our illustrated blog for an overview of Pregius-S' back-illuminated sensor structure and its benefits.
So why the IMX548 in particular? Readers who follow the sensor market closely may note that the IMX547 looks the same in terms of pixel structure and resolution. Correct! SONY found they could adapt the sensor to a smaller and more affordable package, passing those savings along to the camera manufacturer, and in turn to the customer. As 5.1MP resolution is the sweet spot for many applications, Allied Vision picked up on SONY's cues and integrated the IMX548 into the Alvium family.
There are nuanced timing differences between the IMX547 and IMX548. For new design-ins, this is of no consequence. If you previously used the IMX547, please check with our sales engineers to see if switching to the IMX548 requires any adjustments – or if it's simply plug-and-play.
As shown in the photo above, Alvium cameras are very compact, and the same sensor and features are offered in housed, board-level, and open configurations. AVT Alvium is one of the most flexible, compact, and capable camera families in the current market.
Concurrent with the release of this new sensor in the Alvium camera family, Allied Vision has also released Alvium Camera Firmware V 11.00, notably adding the following features:
Input Line Debouncer
Action Commands
Flow Control

1st Vision's sales engineers have over 100 years of combined experience to assist in your camera and components selection.  With a large portfolio of lenses, cables, NIC card and industrial computers, we can provide a full vision solution!
(Visited 590 times, 1 visits today)