Microfluidics includes the control and manipulation of fluids at sub-millimeter scale, with a wide and growing range of industrial and medical applications. Opto now offers microfluids systems solutions via the Opto digital inverse microsope profile M.
With a pressure-based system to move fluids into the droplet micro-nozzle, the dosing nozzle (to add active substances to a droplet), and through the tubing, the Opto Inverse Microsope Profile M revolutionizes the ease of creating a microfluids system.
Five key benefits of the Opto microfluidics system:
Integrates camera sensor, lens, and lighting into one module
Provides lens magnification choices to match application requirements
Light source frequency and color options are available
Parameterized software permits droplet size monitoring and control with user-friendly controls and display (see image below)
Droplets may be sequentially identified and logged for export and data mining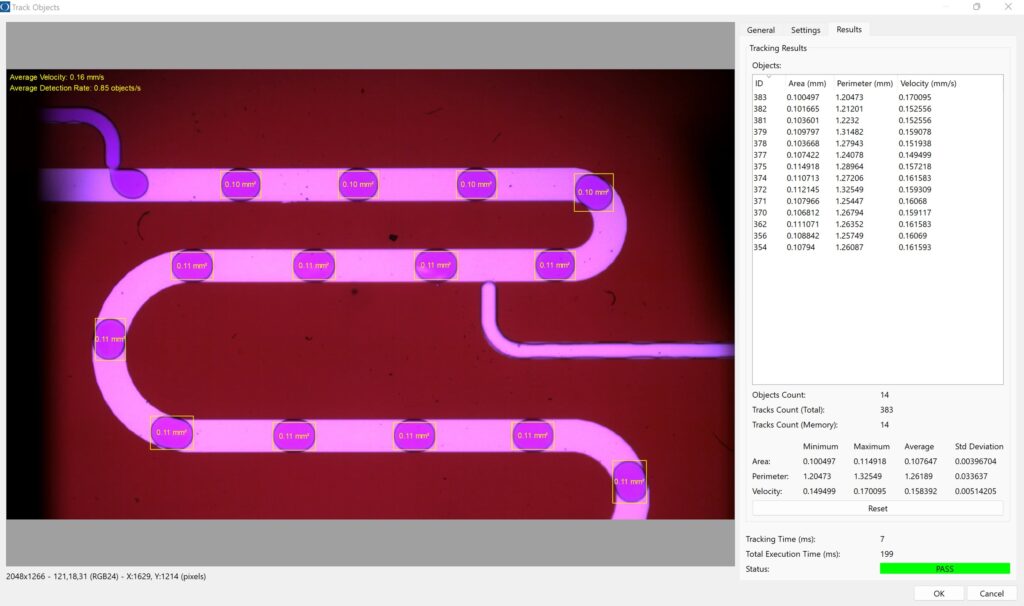 The microfluidics systems offering described above is in turn based upon Opto's innovative Imaging Modules. These modules each contain an integrated camera sensor, lens and lighting in an "all in one" housing. A range of imaging modules are available, each configured to optimize component alignment and operations. The end-user may quickly deploy a new system, benefiting from the standardized systems, economies of scale, and expertise of the module builder.
Coming soon are soon are modules to track, count and analyze fast objects, particles and droplets, at more than 150 FPS. So the approach is also suitable for high-speed biomedical and microfluidics applications.
Key takeaway: Imaging modules relieve the systems builder of the challenges in building an imaging system from scratch, such that the imaging system is a building-block available for integration into (often as the controlling "engine" of) a larger system. The integrator or system builder can focus more at the systems level, connecting the imaging module rather than having to integrate a lens, sensor, and lighting into a custom solution.
In short, it's buy vs. build – for certain applications areas, Opto's integrated modules make a compelling value proposition in favor of "buy" – for the imaging features – allowing the integrator or systems builder to add his or her expertise in other aspects of the system build.
Contact us at 1stVision with a brief idea of your application, and we will contact you to discuss camera options. support and / or pricing.

1st Vision's sales engineers have an average of 20 years experience to assist in your camera selection. Representing the largest portfolio of industry leading brands in imaging components, we can help you design the optimal vision solution for your application.
1st Vision is the most experienced distributor in the U.S. of machine vision cameras, lenses, frame grabbers, cables, lighting, and software in the industry.
(Visited 114 times, 1 visits today)