While conventional machine vision camera lenses exhibit problematic degradation of resolution when the shooting distance or aperture is changed, the Fujinon HF-XA-1F lenses feature high performance "4D HR" to minimize such degradation. The new lenses maintain a highly consistent image sharpness from the center to the edges, while mitigating degradation of resolution caused by changes in the working distance or aperture. This enables consistent delivery of high-resolution images under a wide variety of installation and shooting conditions.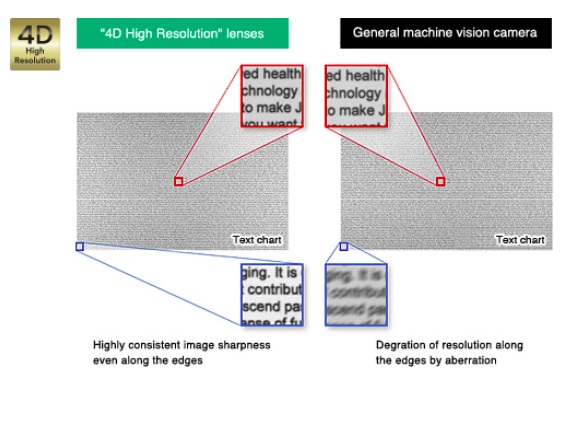 Designed for "4DHR" (4D High Resolution) and compatible with IMX250 high performance CMOS image sensor (2/3″, 5 megapixels, 3.45µm pixel pitch). With five family members, at focal lengths 8, 12, 16, 25, and 35, each model can be used for optical formats from 1/3" up through all 2/3", and even to some 1/1.2″ sensors.
Adjusting the focus is demonstrated in the video below: one ring adjusts focus while the operator monitors the image, and another ring locks in the adjustment:
In addition, the lenses' unique mechanical design realizes anti-shock and vibration-resistant performance, further contributing to image quality. The lenses are compliant with standard IEC60068-2-6, key test parameters being:
Vibration frequency of 10-60Hz (amplitude of 0.75mm), 60-500Hz (acceleration of 100m/S2)
Sweep frequency of 50 cycles
Unlike what most are familiar with in lens designs, for this family iris parts having different F numbers are included with package! These parts enable the user to adjust the F.no. depending on the situation of the installation and the user's application. Please refer to the video below for for how to replace the iris parts & attach to the camera.
Contact us at 1stVision with a brief idea of your application, and we will contact you to discuss lensing and camera options. support and / or pricing.

1st Vision's sales engineers have an average of 20 years experience to assist you. Representing the largest portfolio of industry leading brands in imaging components, we can help you design the optimal vision solution for your application.
1st Vision is the most experienced distributor in the U.S. of machine vision cameras, lenses, frame grabbers, cables, lighting, and software in the industry.
(Visited 200 times, 1 visits today)