While traditional webcams are notoriously easy to bring online, they are typically only consumer-grade in robustness, and the images they deliver haven't been standards compliant – meaning machine vision software hasn't been able to process the data.
Enter IDS uEye XC, a game changing USB3 auto-focus camera from the Vision Standard-compliant uEYE+ product line. With integrated auto-focus, images – both stills and videos – remain sharp even as working distance varies. Application possibilities include kiosk systems, logistics, and robotics.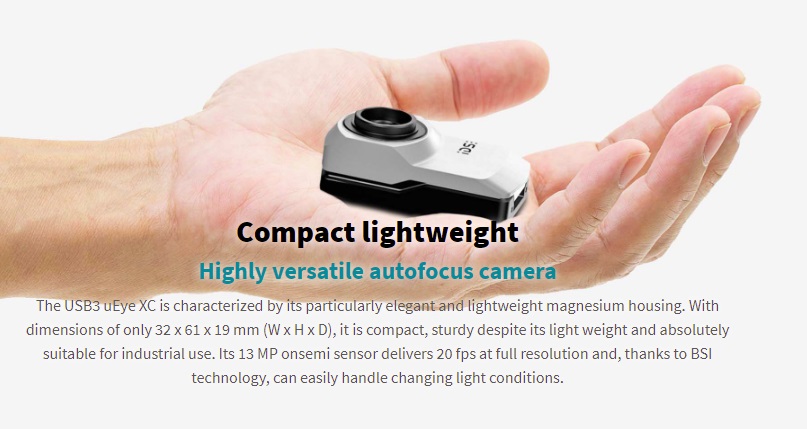 With a lightweight magnesium housing, dimensions of just 32 x 61 x 19mm (W x H x D), the 13 MP OnSemi sensor delivers 20 fps. BSI (Backside lllumination) provides significant improvements in low light signal-to-noise ratio, visible light sensitivity and infrared performance.
The IDS uEye XC camera utilizes industrial-grade components and IDS provides a long planned lifecycle, so that customers can confidently do design-ins knowing they can source more cameras for many years to come. Additional features include 24x digital zoom, auto white balance and color correction.
Designed for plug-and-play installation, IDS' peak SDK makes it easy to configure the camera for optimal performance in your application, in case you want to modify parameter settings.
Contact us at 1stVision with a brief idea of your application, and we will contact you to discuss camera options. support and / or pricing.

1st Vision's sales engineers have an average of 20 years experience to assist in your camera selection. Representing the largest portfolio of industry leading brands in imaging components, we can help you design the optimal vision solution for your application.
1st Vision is the most experienced distributor in the U.S. of machine vision cameras, lenses, frame grabbers, cables, lighting, and software in the industry.
(Visited 307 times, 1 visits today)