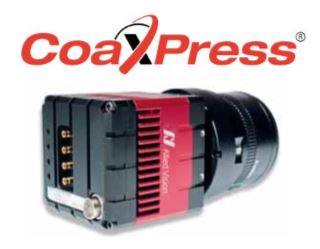 What is  CoaXPress, especially with "CXP-6" capability?
CoaXPress is an established industry standard allowing high speed communications over coaxial cable.  The current version supports bit rates up to 6.25 Gbits/sec over a single coaxial cable.  When used in parallel, two or more coaxial cables can provide incremental speed gains.  The naming convention associated with CoaXPress signify the bit rate as seen in the chart below.   In cases that you see CXP-6 has a bit rate of 6.25 Gb/s.  The 4 x means the number of lanes. Multiply the 2 and you get your total bit rate.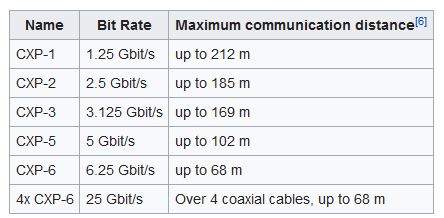 The new Allied Vision Bonito Pro cameras utilize 4 DIN 1.0/2.3 connectors on a CXP-6 interface (4 lanes) x 6.25Gbits/Sec. This  allows for resolutions of up to 26 megapixels to reach 70 frames per second (fps).  The first two Bonito PRO models (Bonito PRO X-2620 and X-1250) support high resolution with 26.6MP and 12.5MP at 80 and 142 fps respectively.
The Bonito PRO cameras are ideal for a wide range of applications including, 2D/ 3D surface inspection,  high speed printing, PCB & Electronics inspection.
Even faster frame rates can be achieved using the Bonito Pro X1250 (12.5MP) in partial scan mode.  Set to a 768 line height, a rate of 503 fps can be achieved!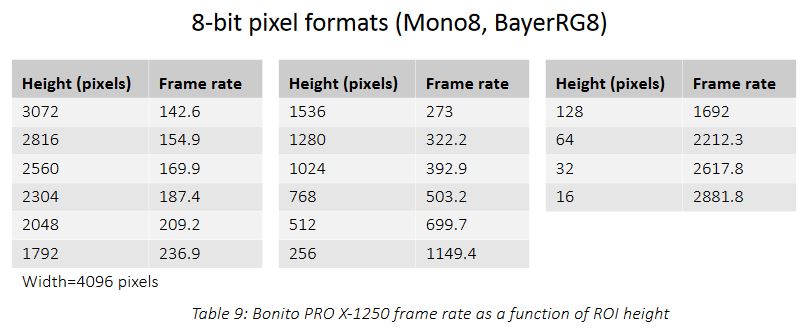 The following video's are good representations of what this relates to in real applications which you can appreciate.

Full specifications for the Allied Vision Bonito Pro cameras can be found HERE, but main features and benefits include:
Sensors available in Monochrome (X-1250B) and Color (X-1250C) and extended near-infrared (X1250B NIR ) models
On board defect pixel and 2D fixed pattern noise correction for improved image quality
Fan-less design for industrial imaging applications.
DIN 1.0 / 2.3 CoaXPress connections for secure operation in industrial environments.
Single cable solutions using trigger and power over CoaXPress (PoCXP)

1st Vision's sales engineers have over 100 years of combined experience to assist in your camera selection.  With a large portfolio of lenses, cables, NIC card and industrial computers, we can provide a full vision solution!
UPDATE:  New video of the Bonito Pro detailing the multi-ROI function
(Visited 291 times, 1 visits today)