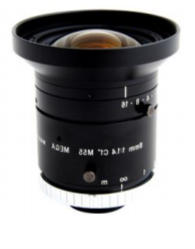 For many years 1stVision has offered several lines of OEM machine vision lenses. These lenses are 'unbranded' but they are made with the glass of one of the big three Japanese optical manufacturers.
1st Vision lenses have excellent optical performance for a great price currently offering a product line designed for a 2/3" image formats with 2MP and 3MP resolutions.
Click here to see the full line of OEM  lenses here and request a quote
Advantages
The OEM machine vision lenses offer some distinct advantages:
They are less expensive than similarly performing 'branded' lenses
When designed into instruments for resale, all issues come back to the original manufacturer.  The end user cannot bypass the manufacturer, ensuring you, when your users have problems, you know about them!
With a good price point, the 1″ format can be used for all smaller sensor sizes using the "sweet spot" of the lens!

What's new?  OEM 1" Optical format machine vision lens.
Recently,  1stVision have begun offering a new OEM line of 1" format, high performing 2 and 3 MP lenses, which offers all the above advantages, but you can now use it with the new Sony Pregius and On Semi Python  sensors that require lens optical formats greater than 2/3" (For example the Sony Pregius 2MP  ( IMX 174, IMX249 ),  8.9MP ( IMX267, IMX255 ) and ON-SEMI 5MP Python 5000 sensors )   Search on the image sensors here
Click here now to view the new product line and request a quote
1st Vision maybe a distributor, but we are really your value-added vision consultants!  With combined experience of over 100 years, we can help discuss the optical performance, how it relates to your image sensor and help you in the design process.  Please contact us to start a conversation
(Visited 523 times, 1 visits today)