Continuing the tradition of excellence begun in 2013, Sony's 4th generation of Pregius sensors, designated Pregius S, is now available in a range of cameras. All Pregius sensors, starting with the "IMX" code preceding the sensor model number, provide global shutter pixel technology for active pixel CMOS image sensors that adopts Sony Semiconductor Solutions Corporation's low-noise structure to realize high-quality images.
Pregius S brings a back-illuminated structure, enabling smaller sensor size as well as faster frame rates. The faster frame rates speak for themselves, but it's worth noting that the smaller sensor size has the benefit of permitting smaller lenses, which can reduce overall costs.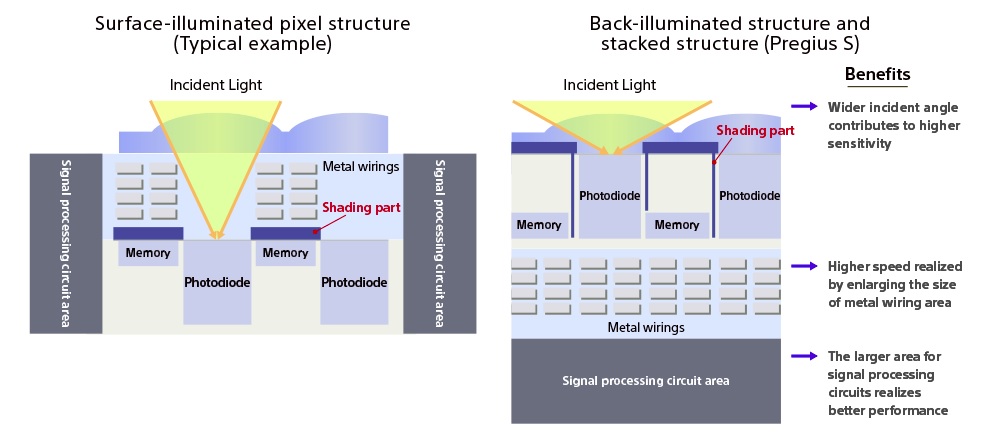 Let's highlight some of the benefits offered by Pregius S image sensors:
With the photodiode placed closer to the micro-lens, a wider incident angle is created, admitting more light, leading to enhanced sensitivity. At low incident angles, the Pregius S captures up to 4x as much light as Sony's own highly-praised 2nd generation Pregius sensors from just a few years ago! (See Fig. 1 above)
Light collection is further enhanced by positioning wiring and circuits below the photodiode
Smaller 2.74um pixels provides higher resolution in typical smaller cube cameras, continuing the evolution of ever more capacity and performance while occupying less space
While Pregius S sensors are very compelling, the prior generation Pregius sensors remain an excellent choice for many applications. As with many engineering choices, it comes down to performance requirements as well as cost considerations, to achieve the optimal solution for any given application. Many of the Pregius S image sensors can be found in industrial cameras offered by 1stVision.  Use our "Sensor" pull down menu on our camera selector to look for the new sensors, starting with IMX5 e.g. IMX541. 

1st Vision's sales engineers have over 100 years of combined experience to assist in your camera selection. With a large portfolio of lenses, cables, NIC card and industrial computers, we can provide a full vision solution!
Graphics courtesy of Sony.
(Visited 448 times, 1 visits today)