Low cost imaging just got redefined with the new IDS UI-3130 LE USB3.1 model cameras.  Typical entry level cameras previously had very few features, until now.

IDS Imaging has released the UI-3130LE USB3.1 camera with the 1/4″ ON-SEMI Python 480 global shutter sensor.  Providing 138 fps at full resolution and 420 fps with the 2X sub-sampling feature, the new series provides a great low cost entry level camera at 0.5MP resolution, and packed with many features



The new IDS UI-3130LE cameras are available in board level, board level with S-mount or fully housed configurations with monochrome and color sensors.  The ON-SEMI Python 480 with 4.8um pixels is one of the latest image sensors providing low noise, high Quantum Efficiency and great sensitivity. 
Feature Highlights

Even with at a entry level cost, the UI-3130LE is packed with features such as 4X Multi Area Of Interest (AOI), long exposure settings to 5 seconds and Type C USB3.1 allowing external power output.

High Dynamic Range (HDR) is included in the UI-3130CP model to address difficult imaging scenes where its desired to see the darks and brights without saturating or being too dim.



Example:  Image to the right uses various "kneepoints" allowing HDR to be achieved

The HDR mode utilizes kneepoints, where the exposure time is divided into sections. After each section, excessively light pixel values are reduced to a limit value and briefly post exposed. This prevents overexposure and increases the dynamic range.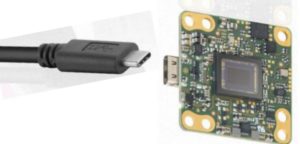 The uEye LE USB 3.1 Gen 1 is the first USB 3.1 Gen 1 industrial camera with a pioneering, reversible USB Type-C connector which supports USB Power Delivery for the first time. The board-level versions also has a 10-pin I/O SMD connector for GPIO, trigger and flash. Via USB Power Delivery, it is possible to provide a variable peripheral power supply to the camera's I/O connector.
The new LE's will also soon support liquid lens technology for OptoTune and Varioptics lenses.. Contact us to learn more about this upcoming feature.


Related Posts

Everything you need to know about USB3.1

USB3.0 for Machine Vision?  Absolutely – White Paper 


Please do not hesitate to Contact us!  1st Vision can provide a complete solution including cameras, lenses, lighting and cables.  We have over 100 years of combined experience we can put to work for you!
Ph:  978-474-0044
info@1stvision.com
www.1stvision.com  
Follow us on Social Media!
(Visited 629 times, 1 visits today)