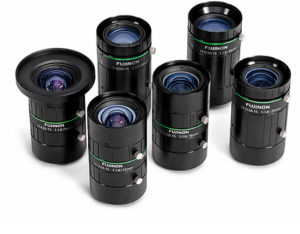 FUJINON has released its new CF-ZA-1S lens series supporting high resolution 1.1″ format images sensors down to 2.5um pixel pitches.  This new series has some unique differences making it our go-to lens for this format size.
In this blog, we cover the unique differences, which are at a price point equal to or lower than competing brands, making it the best in its class.
The FUJINON CF-ZA-1S series with support of 2.5um pixels can be used essentially with any image sensor up to 1.1″ formats needing resolution for small pixels.  Focal lengths from 8mm to 50mm are available.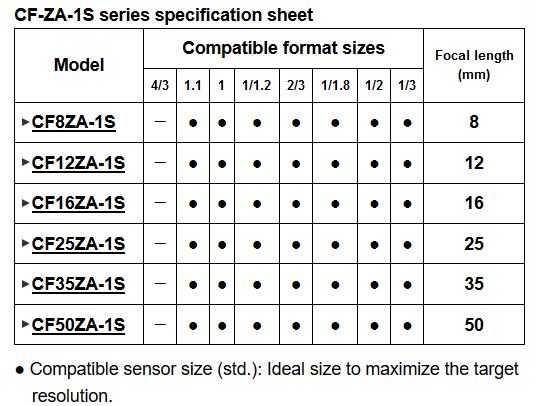 CLICK HERE FOR FULL SPECIFICATIONS ON THE FUJINON CF-ZA-1S LENSES
Main Features of the

FUJINON CF-ZA-1S

machine vision lens series
High resolution and support of 2.5um pixels from center to edge
FUJINON's "4D High Resolution" keeps uniform resolution from the image center to the peripherals regardless of lens working distance and f-stop.   This is extremely beneficial in applications in which high contrast is needed from center to edge. (i.e Measurement of a part spanning the field of view)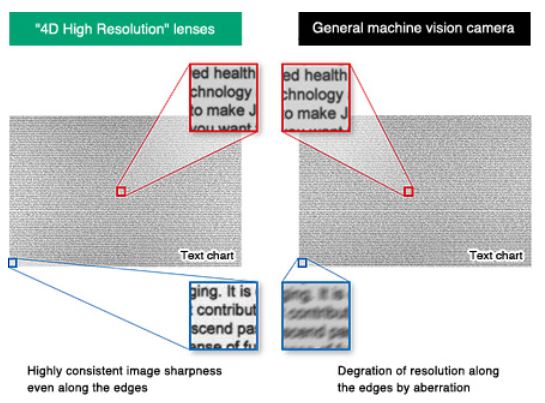 Relative illumination reaches 90% +
In general, the illumination of the peripheral areas of the image is determined by the "relative illumination" and the chief ray angle (CFA).  FUJINON has designed the lens series to constrain the CRA allowing a good balance to the peripherals of the image as seen below.   For machine vision applications needing even illumination, this becomes very important for repeatability.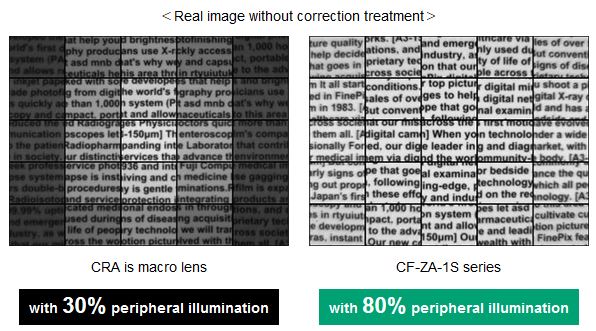 Vibration and Impact resistant
FUJINON has done a great job within their new lens series to incorporate anti-vibration and resistance to high impacts for no extra cost!  In applications such as robotic applications, autonomous vehicles and airborne applications to name a few will benefit from this feature.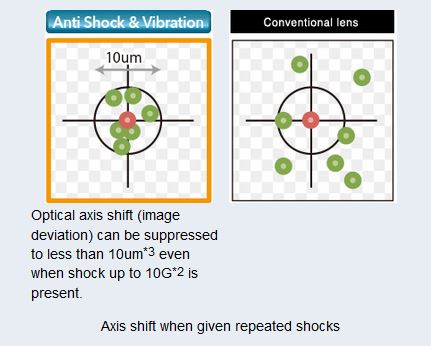 This video highlights these features and more.   It nicely details how the design constraints the CFA for even illumination and is a nice tutorial.


1st Vision's sales engineers have over 100 years of combined experience to assist in your camera selection.  With a large portfolio of lenses, cables, NIC card and industrial computers, we can provide a full vision solution!
Ph:  978-474-0044  /  info@1stvision.com  / www.1stvision.com
Related Blogs
What are the f-numbers on machine vision lenses? f-stop explained!
Get a 5MP lens for the price of a 3MP one! FUJI's new XA-5M lenses.
(Visited 381 times, 1 visits today)