Machine Vision standards have evolved providing defined models of how industrial cameras communicate to a PC allowing easier implementation of machine vision technology. Vision systems can be made up of cameras, frame grabbers and vision libraries from various manufacturers. The vision standards provides compatibility between the various manufacturers for easy implementation.
Machine vision applications require some basic tasks of finding and connecting to the cameras, configuring parameters, acquiring images and dealing with events to and from the cameras.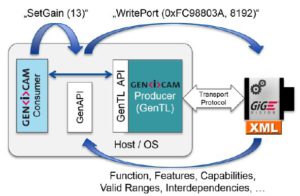 In order to provide cameras from various manufacturers to work together with 3rd party software and hardware from other manufacturers and provide the tasks above, a standard must be followed. "GenICam" is the basis for this standardization, providing compatibility using a Generic Transportation layer and Generic Application programming interface. These are referred to as "GenTL" and "GenAPI" respectively. GenTL provides the communication layer and GenAPI enables camera features to be configured by analyzing a compliant XML file for the camera.
Camera manufacturers however provide unique independent features providing various advantages from one to another. Creating these unique features blur the lines of the standard, not always making a camera fully compatible with another manufacturers software. For example, an industrial camera may use the GenTL layer to be recognized but may have special features making it unique as well.
This can be very confusing to understand! IDS Imaging has a white paper explaining the machine vision interface standardization, GenTL, GenAPI and the system architecture . CLICK BELOW NOW TO DOWNLOAD!
1st Vision's sales engineers have over 100 years of combined experience to assist in your camera selection. With a large portfolio of lenses, cables, NIC card and industrial computers, we can provide a full vision solution!
Ph: 978-474-0044 / info@1stvision.com / www.1stvision.com

Related Blogs & Technical resources