Optotune Focus Tunable Lenses
Compact design
Less mechanics
Fast response
Low power
Less tolerance sensitivity
Optotune is a leading supplier of focus tunable lenses for diverse applications. Whether electrically or mechanically actuated, the advantages of tunable lenses over traditional optics are striking. Optotune's lenses can be taylored to your specific demands in terms of size, tuning range, transmission range or speed. Tell us your requirements and we will be happy to assess the feasibility.
The following table summarizes the main specifications of Optotune's most popular focus tunable lenses:
EL-10-30
Series

EL-10-30-C
Series

EL-10-42-OF


EL-16-40-TC
Series


Product description

Fast electrically tunable lens
Fast electrically tunable lens
Fast electrically tunable lens
Fast electrically tunable lens
Size (ØxH)
30mm x 9.7mm
30mm x 20.7mm
42mm x 36mm
40mm x 11.9mm
Clear aperture
10mm<
10mm
10mm
16mm
Lens Type
Plano convex
Plano convex
(offset lens optional)
Plano convex + plano concave offset lens
Plano convex to plano concave
Focal length range
From +20 to +140mm
From -600 to +170 mm
From -500 to +500 mm
From -500 to +333 mm
Refractive Index
1.300 or 1.559
1.300>
1.300
1.300
Recommended
Documentation
Datasheet
Datasheet
Datasheet
Datasheet
Driving electrically tunable lenses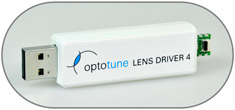 Optotune's electrical lenses are current controlled. There are several options for current drivers ranging from regular lab power supplies to tiny VCM driver ICs including a high-precision USB driver with a resolution of 0.1mA, which includes read-out of ingetrated temperature sensors over I2C.
Videos
Continuous focus with the EL-10-30 and a time-of-flight distance sensor
Focus tunable lenses presented at Optatec 2012