Gardasoft RC Series LED Lighting Controllers
LED lighting controller solutions for machine vision applications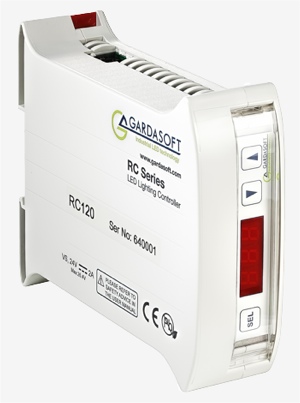 The RC range is Gardasoft's latest generation of LED lighting controller solutions for machine vision applications. Implementing our patented SafePower™ technology, installation is very easy, removing the needs of perhaps having to use a bespoke DC power supply or heat sinking the controller. All RC models also include our SafeSense™ technology. To get the very best out of your LED lighting solution, in terms of brightness stability and control, lighting should be driven from a current source, not a nominal voltage supply. The Gardasoft RC Series controllers are therefore single channel current source devices.
The RC Series models can be quickly configured using our free software (which can be downloaded via the software link on this page), or for the Ethernet enabled RC120 controller, simply by accessing the controller via your internet browser; type the IP address for the controller into your browser and you have full access to all of the parameters. Using a third party software package? Not a problem, the RC range has a simple command set that is detailed in the manual allowing easy communication. As with all Gardasoft products, all the settings are stored in non-volatile memory, and it will retain these settings even when the Ethernet connection is disconnected.
Using our patented SafeSense™ technology, the RC range allows you to overdrive your LED lights safe in the knowledge that the lights will be protected from damage. The RC Series will protect the lights ensuring that the high current pulses are regulated in terms of pulse width timing and frequency. The end result is you get the maximum light possible for your application. SafePower™ now allows you to overdrive the lights without having to increase the input power supply voltage (which you need to do with the Gardasoft PP range), making implementation and system integration much simpler). Gardasoft Controllers are universally compatible with LED Vision lighting, from manufacturers such as CCS.
Key features:
Entry level controllers
Single channel LED control
Push button and Ethernet configuration options
SafeSense™ technology for safe overdriving
SafePower™ for easy installation
Compatible with nearly any LED lighting assembly available today
For more information please refer to the RC Series Datasheet and Manual.
Specifications
Parameter
RC100
RC120
User interface
Push-button
Ethernet and Push-button
Output channels
One constant current output with SafeSense™
Output current
Up to 1.0A continuous or 1.0A pulsed
Up to 1.2A continuous or 2.0A pulsed
Output Power
Max 25W
Trigger inputs
Smart input compatible with 3V-24V, TTL, NPN, and PNP
Input impedance (nominal): 50kohm
Pulse Timing
From 100µs to 100ms in steps of 100µs
Delay from trigger to pulse
From 2µs to 100ms in steps of 100µs
Timing repeatability (Delay)
±5µs (Delay + Pulse up to 60ms)
Otherwise ±50µs
Timing repeatability (Pulse width)
±0.1µs (Delay + Pulse up to 1ms)
±5µs (Delay + Pulse from >1ms to 60ms)
Otherwise ±50µs
Switch mode latency
Maximum 100µs
Trigger rate
Maximum 100Hz
Output voltage
0V to 32V
Supply voltage
Regulated 24V ±10%
A SELV power supply is required
Dimensions
101mm long by 35mm wide by 120mm high (excluding DIN fixing)
Weight
175g
Mounting
DIN rail mount as standard
Operating temperature
5 to 50°C
Humidity
Up to 95% non-condensing