The Fujinon FE185C057HA-1 CCTV, Fish-eye lens has super high resolution, a 1.8mm focal length, a 5 megapixel C-Mount lens, a very wide angle lens housed in a rugged construction suitable for industrial environments.

With a super wide angle of 185 degrees, this lens is a good choice for CCTV applications. The wide angle eliminates dead angles, and enables wide-area surveillance.

Once the lens is mounted, the metal mount and lock prevents iris shift. The f-theta system, facilitates high quality image display, partial image enlargement, and easy image conversion.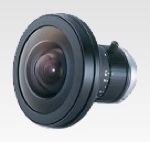 Manufacturer: Fujinon
Manufacturer PN: FE185C057HA-1
Focal Length: 1.8mm
Quality: 3MP
Sensor Size: 2/3"
Lens Mount: C
F Stop: 1.4

M.O.D. (m): .2
Dimension (L x W): 56.5 x 46.3
Iris type: N/A
Filter size: N
Distortion: N/A
Resolution: N/A

Datasheet