The Allied Vision Tech (AVT) Mako G-234B/C industrial GigE Camera with a CMOS Sony Pregius IMX249 sensor features Power Over Internet (PoE), three opto-isolated outputs, and a 64 MB FIFO image buffer. The ultra-compact size is ideal for fitting into tight spaces that are required for many industrial machine vision applications.
Allied Vision Mako Cameras
VGA to 5MP
1/4"-1" CCD/CMOS, Sony/OnSemi/e2V/CMOSIS
Up to 550 fps
GigE (PoE) and USB3 Vision
Mako G-234B/C Features
Super high speed
Great price/performance
Horizontal and Vertical Binning
Great dynamic range
Allied Vision GigE Camera Resources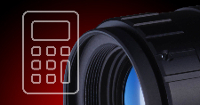 Hardware Selection for Allied Vision GigE_Cameras
Everything you need to
know about PoE
Discover the Mako
Machine Vision Camera
GigE Camera Accessories

How can we help you today?