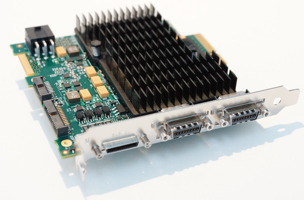 Building on the field proven capability of Teledyne DALSA's XTium frame grabber series, the Xtium™-CLHS PX8 is based on industry standard PCI Express™ PCIe 2.0 expansion bus to deliver high speed access to host memory. The new Xtium series offers higher bandwidth to sustain Camera Link HS modes over longer cable distances and supports a wide variety of area and line scan color/monochrome cameras, all in a compact, half-length, single slot solution.
The Xtium-CLHS PX8 takes full advantage of PCIe PCIe 2.0 x8 platform to deliver a bandwidth in excess of 3.2GB/s, while at the same time supporting PCIe Gen 1.0 slot to deliver 850MB/s. The newly engineered, on-board, Data Transfer Engine (DTE) produces maximum bandwidth without the need for specialized motherboards or chipsets. By enabling maximum sustained throughput and ready-to-use image data, the Xtium-CLHS PX8 minimizes CPU usage and improves processing times for the host applications. In addition, the Xtium series has been engineered with enhanced memory architecture allowing it to handle different sensor tap topologies while sustaining color decoding at the maximum frame/line rate.
The Xtium-CLHS PX8 offers built-in, robust electrical signals for external event synchronization, and status notification LEDs. One or more boards can be synchronized to acquire images from multiple area or line scan cameras simultaneously. The Xtium-CLHS PX8 supports CLHS 1 to 7 lane configurations.
Xtium-CLHS PX8 Features
Half-length PCI Express PCIe 2.0 x8 Board
Acquires images from CLHS 1 to 7 lane configurations.
Rapid image acquisition rates up to 1GB/s and high-speed image transfer to host memory at 1.7GB/s
512MB of memory onboard
On board Bayer decoding
On board flat field correction
Input LUTs
Hardware dead pixel replacement
ROHS compliant