Allied Vision Goldeye G-130 TEC1 SWIR
GigE Camera
Sony IMX990 Sensor
1280x1024 Resolution
Area Scan Camera

Allied Vision offers a variety of Goldeye camera models with Sony's new SenSWIRTM-InGaAs sensors with your choice of GigEVision (PoE) or CameraLink (PoCL) interface for a wide range of SWIR imaging applications. Goldeye G/CL-130 model with IMX990 1.3MP SXGA sensor offers frame rates to 110fps (with Camera Link interface) or 94 fps (with GigEVision interface), while the G/CL-030 model features the faster ¼ inch Sony VGA resolution IMX991 sensor at frame rates up to 258fps. All Goldeye fan-less, TEC camera models feature robust and compact design optimized with integrated single-stage thermoelectric sensor cooling (TEC1) and several integrated image correction functions to provide outstanding image quality. All Goldeye SWIR cameras include the extensive VIMBA SDK (GenICam-compliant) and VIMBA viewer software for maximum ease of system integration.
Goldeye Cameras
QVGA and VGA Resolution
InGaAs sensors
Up to 344 fps
Spectral range 900 - 1700 nm (SWIR)
Goldeye G-130 TEC1 SWIR Features
Sony IMX990 InGaAs 1280x1024 SWIR 1/2" format sensor
Spectral range 400-1700 nm
5x5µm cell size
Effective chip size 6.4x5.1mm
Allied Vision GigE Camera Resources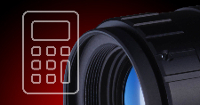 GigE Camera
Accessories

Hardware Selection for Allied Vision GigE_Cameras
How can we help you today?