Teledyne Dalsa Z-Trak 3D Laser Profiler

Teledyne Dalsa's Z-Trak 3D laser profiler series delivers high resolution height measurements using laser triangulation techniques. These compact units feature powerful FIR-peak detector and are factory calibrated for rapid field deployment. With a wide selection of models, Z-Trak is able to measure 10 to 1000 mm Z-axis range with resolutions down to 5µm. Z-Trak delivers highly linear and repeatable results by combining reflectance based dynamic laser power control and Scheimpflug optimized optical path. With sophisticated algorithms and blue laser options for highly reflective surfaces, or red laser options for more complex surfaces, Z-Trak proficiently handles virtually any 3D inspection task. Support for GigEVision standard allows Z-Trak series to work with both the Teledyne DALSA image processing and analysis software packages, as well as a wide variety of third party 3D image processing and analysis packages.
Robust, FIR-Peak detector algorithm
10-1000mm Z-range, to 5µm measurement resolution
8.4-1520mm FOV in X, to 8.6µm measurement resolution
24-1500mm working distance range
How exactly does 3D imaging work?
There are a number of techniques available for 3D imaging. The Z-Trak series of 3D laser profilers uses a laser triangulation technique to deliver high resolution height measurements. Z-Trak emits a laser onto an object of interest; the reflection's position in the sensor's field of view allows the scanner to triangulate the point in space at which the laser hits the object. The diagram below illustrates the terms used to specify Z-Trak's performance.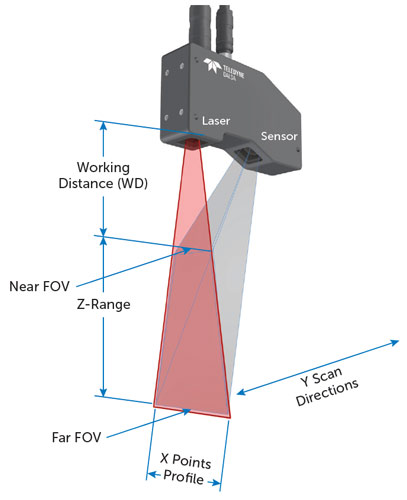 Models

X20
Model
L1-1040-B2
L1-1060-R2 *
L1-1120-R2
L1-1200-R3 *
Z-Range (mm)
40
60
120
200
Working Distance (mm)
40
66
86
150
Field of View (X)(mm)
22 – 27.6
25.7 – 39
42.8 – 80.8
63.7 – 134.9
Profile Rate (frames/sec)
VGA: 840. Full: 210.
VGA: 840. Full: 210.
VGA: 840. Full: 210.
VGA: 840. Full: 210.
Accuracy (µm)
3
5
8
12
Repeatability (µm)
0.8 – 1.2
1.3 – 2
1.5 – 3
3 – 12
Linearity
<0.02%
<0.02%
<0.02%
<0.03%
Z Res (µm)
8 – 12
15 – 35
20 – 60
50 – 200
X Res (µm)
20 – 28
26 – 40
44 – 83
65 – 139
Laser (nm)
Blue: 405 nm
Red: 660 nm
Red: 660 nm
Red: 660 nm
Laser Safety Class
Class 2M
Class 2M
Class 2M
Class 3R
Dimensions (mm)
36 x 78.4 x 138.6
36 x 78.4 x 138.6
36 x 78.4 x 138.6
36 x 78.4 x 138.6
Case
X20
X20
X20
X20

X10
Model
L1-1010-B2 *
L1-1025-B2 *
Z-Range (mm)
10
25
Working Distance (mm)
30
24
Field of View (X)(mm)
8.4 – 9.7
13.9 – 18.6
Profile Rate (frames/sec)
VGA: 840. Full: 210.
VGA: 840. Full: 210.
Accuracy (µm)
1
2
Repeatability (µm)
0.5 – 0.7
0.7 – 0.9
Linearity
<0.02%
<0.02%
Z Res (µm)
5 – 7
7 – 10
X Res (µm)
8.6 – 10
14.3 – 19.1
Laser (nm)
Blue: 405 nm
Blue: 405 nm
Laser Safety Class
Class 2M
Class 2M
Dimensions (mm)
36 x 84.8 x 125.8
36 x 84.8 x 125.8
Case
X10
X10

X30/X50
Model
L1-1250-R3 *
L1-1300-R3 *
L1-1400-R3 *
L1-1800-R3 *
L1-11K0-R3 *
Z-Range (mm)
250
300
400
800
1000
Working Distance (mm)
175
200
250
400
1500
Field of View (X)(mm)
131.1 – 262.2
192.9 – 408.5
332.5 – 950
332.5 – 950
931 – 1520
Profile Rate (frames/sec)
VGA: 840. Full: 210.
VGA: 840. Full: 210.
VGA: 840. Full: 210.
VGA: 840. Full: 210.
VGA: 840. Full: 210.
Accuracy (µm)
17
20
35
40
60
Repeatability (µm)
4 – 20
6 – 30
10 – 60
20 – 250
25 – 400
Linearity
< 0.03%
<0.04%
<0.04%
<0.04%
<0.05%
Z Res (µm)
80 – 300
80 – 300
100 – 600
200 – 2200
500 – 1800
X Res (µm)
135 – 270
198 – 420
235 – 537
342 – 976
957 – 1563
Laser (nm)
Red: 660 nm
Red: 660 nm
Red: 660 nm
Red: 660 nm
Red: 660 nm
Laser Safety Class
Class 3R
Class 3R
Class 3R
Class 3R
Class 3R
Dimensions (mm)
36 x 78.4 x 189.6
36 x 78.4 x 189.6
36 78.4 x 189.6
36 x 78.4 x 189.6
36 x 74.3 x 502.2
Case
X30
X30
X30
X30
X50