What's New?
---
JAI prices lowered on selected GigE models for a limited time!

Over the next few months, JAI is scheduled to roll out several high performance camera models in their new Spark and Elite Series featuring dual-channel GigE Vision interfaces with Link Aggregation (LAG). While these models will deliver more megapixels-per-second over GigE Vision than ever before, we know there are plenty of applications that don't require such a high-end configuration. (read more)
---
IDM 500 DSP USB Cameras for as little as $299

Imaging Diagnostics new IDM 500 camera series offers Aptina CMOS sensors with resolutions of WVGA, 5MP and 10 MP combined with a Analog Devices Blackfin DSP all in a tiny 30x030x30 mm package with USB2.0 output. DSP can be used for on-board processing or as camera controller for embedded imaging applications. Cameras have trigger input and strobe output.
---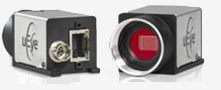 IDS CP CMOS GigE cameras with Power Over Ethernet (POE)
IDS Imaging's new small form factor GigE with POE cameras offer WVGA and 5MP sensors from Aptina and the new global shutter e2V 1MP sensor in a 29x29x41mm package.
---
JAI 8M Quad tap 17 fps camera link


JAI's new Kodak 8MP quad tapped 17 fps camera link camera. Large pixels, high dynamic range, flat field correction and lookup tables.
---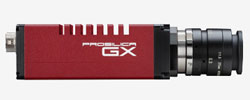 AVT GX 1920 3 MP Exview CCD @ 40 fps
AVT's new Sony ExView 3 MP sensor runs at 40 fps with a GigE output. This sensor is their most responsive in both the visible and NIR. 4.5um pixels and high speed dual GigE LAG output.